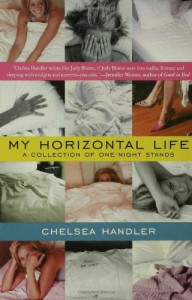 I had this book for a while and decided to give it a read, I had no idea who Chelsea Handler was, but I had heard that this was a funny book, and I needed something fun and light to pass a few hours.
I noticed some of the reviewers on here were complaining about how disgusting this book is, and I wonder whether they read the same book I did?, or if perhaps they needed some sort of humour transplant?
This book isn't a step by step detail of the one night stand's Handler had but, more about the funny situations that occurred around it. It was pretty laugh out funny in some parts, especially at the beginning and in the middle but then, it became less funny towards the end, and that is when I started realising Chelsea's life was in fact pretty empty, with no real depth. Then again, perhaps that is what Chelsea meant the book to be...Just a collection of funny anecdotes with no real depth,Which was fine by me.
Anyway, it was a very quick and light read and I finished the book, within 3 hours believe it or not!
I would definitely give another one of her books a go, the next time I want a something light and fun to read, that doesn't press too heavy on the old braincells.